American Airlines and US Airways
announced yesterday
to no one's surprise that their executive boards have approved a merger, thus creating the biggest airline company in the world. Where have we heard this before? Oh yeah, Delta, Northwest, United, Continental, etc. all claiming that their mergers would create the biggest and best networks on the planet. As many of you may recall from last year, the merger between United and Continental was a marriage made in hell as the new United struggled with flight consolidation, short staffing, flight delays/cancellations, and system integration failures. Top-tiered 1K elite members had to wait for over an hour over the phone just to book a flight, and elite "priority lines" spun for an eternity. Furthermore, United severely devalued their loyalty program, thus angering their frequent flyers and sending them off on endless rampages on online forums. It's no wonder that AA's frequent flyers, who have grown accustomed to easily the best airline loyalty program in the U.S., all have their hands on the panic button. After all, US Air has garnered a reputation as being one of the worst airlines in America, a feat only bested by United.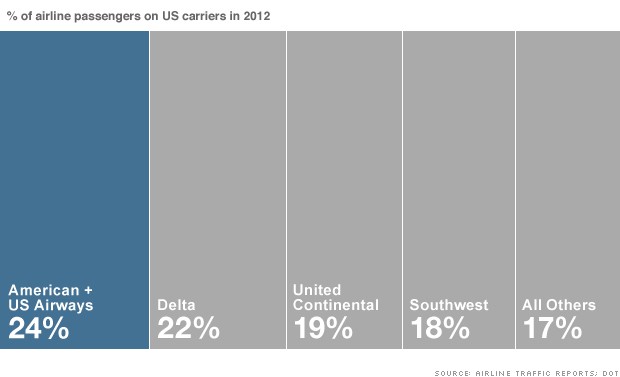 As they get bigger, your wallet will get smaller with less competition resulting in higher fares
Expectations
US Air expects the merger to be complete by the third quarter of 2013, which is a lofty goal considering that it took over a year for United and Continental to merge. AA will retain the name and logo of the new airline, and the AAdvantage program should take precedence. US Air, which is currently a Star Alliance member, will be switching over to AA's one world alliance. Many frequent flyer pundits anticipate devaluations for elite members, which has become the norm for carriers as they struggle to maintain profits. For example, AA currently has 3 elite tiers with top-tiered Executive Platinum members who receive 8 SWUs. US Air has 4 elite tiers with top-tiered Chairman Preferred members who receive 2 SWUs, so expect a balancing act there with EXPs getting shorted and AA creating a 4th mid-tier elite level. And AA elite Gold members, who currently have the best perks for a bottom tier elite on the market, should expect to see some substantial losses in the same way that Delta and most notably United dropped the bomb on their bottom tier elites.
What to do now
AA has a good
award redemption chart
, and their miles are arguably one of the most valuable. US Air has a decent
award chart
, but it's coupled with the most incompetent phone agents on the planet who don't have clue who their airline partners are. Nevertheless, US Air has hidden gems such as North America to North Asia in biz class for only 90k miles and intra-North Asia biz class for 30k miles (the same itinerary would cost you 110k and 80k with AA). In other words, I don't expect much of a devaluation to their award chart as other pundits suggest since both programs have good redemption rates. Because miles will be consolidated from your AA and US Air accounts, now would be a good time to sign up for US Air's
40k miles credit card
to maximize your award miles balance. AA doesn't have a good sign-up bonus credit card at the moment.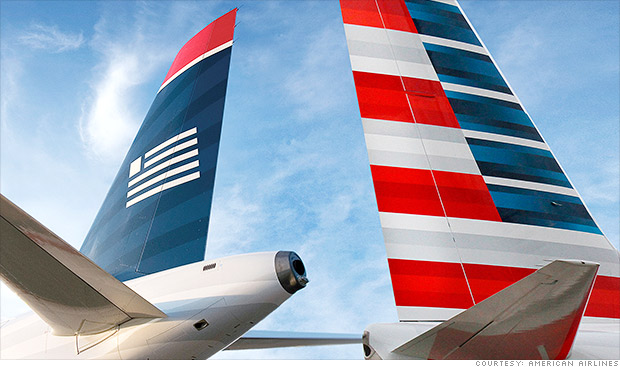 Bottom line
Elite benefits devaluation? Probably. Award chart devaluation? Maybe. Merger? Definitely. A merger made in hell? Possibly. Let's just keep our fingers cross in hopes that they don't pull a United, which is actually tough to beat. Stay tuned for the many updates to come at their
new merger website
.